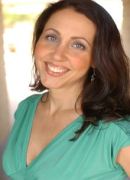 September 16, 2010
Hi <>,
Well, I made it back safely from Phoenix and the truly fantastic conference I attended there, but I'm in shock it's already Thursday. I usually look forward to writing my newsletter as I LOVE connecting with you all and feel so strongly in my purpose.
But today I'm just not feeling it.
Unlike almost always, I don't feel a topic ready to spill out of me to be shared with you quite yet (normally I have at least five vying to be selected ("pick me pick me!")).
I'm still floating on a very new and amazing cloud of perspective and awareness that resulted from the immersion in the positive energy of the people there and connecting with their loving hearts... and I'm still processing all of the information I received at the event.
The dominant part of my brain/psyche, the one I almost always listen to, says, "it's Thursday, you have to do the long version of your newsletter, be responsible, reliable."
But there's another quiet little voice that is speaking up more lately, and I almost always love what she has to say.
She dares to question the status quo, has fun just for the heck of it, and doesn't give a hoot what anybody thinks.
She says, "Why? You can skip a newsletter if you want, you, know."
The rest of my mind recoils (horrors!) but acknowledges she's right, technically. But that doesn't feel right.
Then she speaks with a wisdom that is clear as day: "Just tell them the truth. Share where you're at, what's happening."
Yes. That is always the right answer, isn't it?
So I'm giving myself permission to break the rules. I'll return to the normal full longer newsletter format with multiple articles and a recipe and such next week.
Hmmm. Now why was that such a leap for my brain to make?
When do you give yourself permission to break the rules in your life?
So many of us STILL struggle with Good Girl Syndrome - it's still rampant and as every perfectionist and self-critical person who wrangles with low self-worth at times knows, it can be a wily and fierce opponent.
I mean, after all if we don't follow the rules, won't everything fall into True and Utter Chaos and Anarchy?
Nahhhh.
Cut yourself some slack.
Honor your feelings.
Be where you're at and give yourself some space to breathe.
Most of this life we actually do MAKE the rules, we just don't claim them as our own. But we speak our truths with out thoughts and our actions. If we operate within the established rules we are complicit with them. If we don't like them, we break them or change environments, right?
Give your life a once over scan and ask this:
1. Where are you following rules that don't really work for you, just because that's how it's always been done?
2. Where are you doing things in a way that doesn't really suit you?
3. Where can you set yourself free by considering an alternative way?
The chains are put on ourselves and can be removed by ourselves.
We are infinitely powerful beings and we deny our power every time we unconsciously give it away, deny ourselves, settle for less, or make things a struggle that could be a joy.
So for today, let's make it a little easier on ourselves.
Let's "loosen the bone, Wilma" and do things in a way that makes us feel freer and that acknowledges how much power we really do have in our lives.
We don't have to give up being a good girl. We're just being good girls who loves ourselves and our happiness.
So go on, know when it's time to break the rules and make a new one.
I'm going to keep practicing it, too.
P.S. I have some amazing new things coming up and I can't wait to share them with you very soon. Keep your eyes peeled (lids up!) for some announcements in the next couple of weeks. Much Cheers and Love,

---





I hope you all have a powerful experience of loving yourself this week to remember how truly special and strong you really are.

Make it happen! I'm cheering you on all the way.
---
Know somebody who'd enjoy reading this?
Feel free to forward to friends who may be interested.
Haven't subscribed yet?
Get a free subscription here (top right corner). Sign up and receive the eBook Self-Down Smackdown! Break Free of Doubt & Reset Your Confidence Button and the Get Closer to Your Dreams report FREE.
Contact me
I love hearing readers' comments, opinions, questions and ideas. Click here to open the contact form.
You truly are a beautiful light being and I love helping you shine even more brightly. Be the shining star you are!