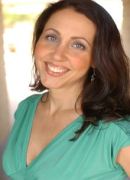 August 19, 2010
Hi <>,
You've probably heard me say before that your body loves exercise.
(Hang around me long enough and I'll eventually blurt it out like a revelation from above, because I continually relearn this and it hits me like a ton of bricks every time.)
We might intellectually know this, but we sure do play a pretty good game of pretending we don't.
Most of us are more sedentary than we know is healthy. But instead of exercise being a chore to fit into our life, let's flip it around.
It's not only a privilege that we're wasting, and an essential part of healthy living, but a dishonor to our hard working one-of-a-kind irreplaceable body.
Hear me out in the main article section and see what you think. It is still giving me goosebumps when I look at it like that. Pretty darn motivating for me, maybe for you as well...
Cheers and Love,

---



Confident Vision Living News
News

Stay Motivated! Weight Loss Workshop

Join us on 8/26 when we address the secret psychological and emotional factors that trip us up, steal our motivation, and sabotage us when we're trying to lose weight and create healthier habits.

NOT knowing these can make you feel like a failure and even continue to make you GAIN weight.

You'll learn to your unique patterns and apply this knowledge in your daily life starting that very night! You'll walk away empowered, feeling clearer and confident you will burn the fat off and create a healthy sexy body you love.

Life's too short to not feel good in your own skin.

Honor Your Body with Exercise




Confident Living


You've got a lot going on. (And you've also "got it going on" but that's another story.)

My peeps are busy with lots of demands, ideas, plans, people counting on you, plus errands that cannot be delayed, not to mention a full daily schedule. Oh yeah, and that pile full of when-I-have-time stuff.

With all of that happening, it's easy to miss the quiet whispers of our body nudging us with what it needs. We ignore it and move on with our list of tasks.

The ability to move our muscles, our limbs, our bones, and to walk this earth is a gift of the most powerful magnitude.

Not everyone has this luxury.

Yet most of it throw it away and abuse ourselves with sedentary lifestyles that tax our systems, stress out backs, tighten and shrink our muscles, and lessen our sense of power, freedom, and joy.

Throughout the day many of us actually resist the urge to move, telling our bodies to quiet down, stop bugging me, leave me alone.

It almost seems cruel to me how badly we mistreat our bodies (and I'm not even talking about food, environmental exposures, intentional pain infliction, or high-risk activities).

Our bodies will whisper to us again and again as to what they need. When we keep ignoring them, they'll start to yell, increasing the volume more and more on our discomfort until we get the message. Sometimes that yell goes beyond a "chronic" condition and jumps straight to disease.

Have you been abusing your amazing skin, muscles, heart, brain, bones, fingers, feet, back, legs, spine, lungs, kidneys, intestines, stomach, or liver lately?

We have a choice every day, every hour as to how we'll have our bodies serve us.

It's not asking us for much, really. A 10-minute walk here, a few good stretches there, less sitting, some deep breaths. Isn't it worth honoring its small requests?

Listen more this week to the quiet messages your body is sharing with you, hoping you'll listen before it's too late.

Shhhhhhh - I hear your body now! It just said - "get away from the computer now, stand up and move around. Start dancing."

Oh wait - that's MY body talking. Whoops!

This time I'm going to listen.

Gotta go! It's time to boogie.




 Quote of the Week
Insight


Dreams pass into the reality of action. From the actions stems the dream again; and this interdependence produces the highest form of living. ~ Anais Nin.

For more motivation quotes see Motivation Quotes.



Raw Delicious Onion Bread - Gluten-Free
Healthy Recipe


I'd pretty much given up on bread. I'd get sleepy after meals, feel bloated, puffy, and my joints started hurting again. You can even see it in photos - my face blimps up like a puff fish. Gluten and wheat and oats and soy and dairy (I could go on...), unfortunately are not my friends.

So when I found this amazing onion bread, I freaked out with joy. I could eat bread again! But it's better than regular old bread, it's onion bread. And it's freaking delicious.

Yep, it's gluten-free, dairy-free, soy-free, wheat-free, etc., requires NO yeast, NO bread machine, NO real baking either.

Check it out:

Simply Delicious No-Bake Onion Bread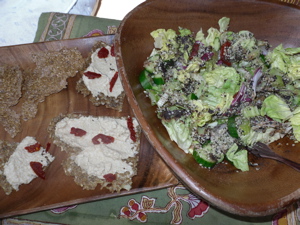 I don't really measure much, but it always works out.

Makes quite a lot, takes me about a week to go through it and I tend to want to eat it 2x a day.

I packed this as part of my lunch at a conference over the weekend so I would I eat healthily and look forward to my lunch. No deprivation here!

The time before last I made this was in June in Yosemite and it was SUCH a great hiking snack to bring a sandwich of onion bread, cucs, with a raw cashew/chickpea miso cheez for a hearty lunch. Memorable to eat at the top of a mountain next to a raging waterfall.

Food just tastes better outside, doesn't it?

Enjoy!



Wishing y'all a fantastic week stepping into your power.

Make it happen! I'm cheering you on all the way.
---
Know somebody who'd enjoy reading this?
Feel free to forward to friends who may be interested.
Haven't subscribed yet?
Get a free subscription here (top right corner). Sign up and receive the eBook Self-Down Smackdown! Break Free of Doubt & Reset Your Confidence Button and the Get Closer to Your Dreams report FREE.
Contact me
I love hearing readers' comments, opinions, questions and ideas. Click here to open the contact form.
You truly are a beautiful light being and I love helping you shine even more brightly. Be the shining star you are!