Delicious Raw Healthy Onion Bread
This onion bread is easy to make and healthy to eat.
And I don't even like onions!
Better yet it's made WITHOUT gluten, yeast, sugar, soy, wheat, oats, eggs, corn, dairy, nuts or other troublesome digestive "problem children" for many of us. (Shown below with cashew "cheez".)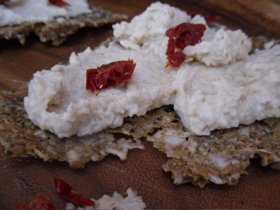 Exact amounts do NOT matter, but here's a guideline. Tweak it to make it your own. Customize, baby.
Ingredients:
About 3 large sweet onions, peeled
1 cup golden flax seeds, ground
1 cup sunflower seeds, ground
2 oz coconut aminos (or Braggs Aminos or soy sauce if you tolerate those)
1 oz water
1/2 avocado
1/8 olive oil (optional; can use more avocado instead)
Seasoning (optional; I use a non-salt herb mix from Costco)
Throw the onion in the food processor (in batches) and process into small bits (not too much or it gets mushy and watery). Dump into a big bowl.
Add all of the other ingredients into the bowl with the onions and blend! When using avocado sometimes it works best to use your hands and really mush it all together.
The texture doesn't matter too much, but it should be thick and well blended. If it's too dry and won't hold together, add a splash more of water. If it's too wet and seems runny, add more herb seasoning or more seeds.
Spread onto dehydrator teflex sheets THINLY. Blast the bread on high for about 30 mins (to reduce change of mold). Then turn down to about 118 degrees or a smidge less until done. Flip from the sheets onto the trays without sheets to speed up drying (use a spatula for best results). Usually mine are done in about 15-18 hours, depending on how thick they are and how wet the mix was. (Use your oven on warm as a substitute dehydrator if you don't have one.)
When done, cut into pieces with kitchen scissors.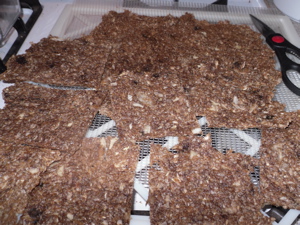 Top with guacamole, hummus, vegetarian pate, avocado, or other creamy spread as a snack like a cracker. Or layer with cucumber, sprouts, lettuce, etc. to make a true sandwich. Keep in the refrigerator. Lasts about a week.
Dairy-Free Cheese Spread

Make Your Own Almond Milk

Green Smoothie Goodness

Spicy Curried Leeks

Hearty Walnut Pate

Kale Chips for Everyone

Coconutty Balls

Super Easy Blueberry Pie

Gin's Favorite Healthy Eating Books

Raw Berry Cereal

Stop Snacking

Green Smoothie Milkshake

Do You Drink Too Much Wine?

Easy Healthy Recipes

Return from Healthy Onion Bread to Confident Vision Living