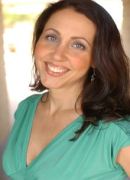 June 2010
Hello Amazing You!
Lessons in school are one thing, but life lessons are a whole different matter. I've been thinking a lot about this lately and paying attention to the lessons I'm here on this planet to learn.
Unlike formal education, we don't know when we're going to get a dose of The School of Life (or "Earth University" as someone I know calls it). Or if we'll pass the test, how long the test is, or when we'll get our score.
Hopefully, though, as we get older those exams get a bit easier. One of the blessings of experience is the ability to know ourselves better and to roll with the changes we know are inevitable and necessary in this grand experiment of life.
What recurring themes run through your life that seem to be your main lesson?
Mine is pulling the thorn of self-doubt out of my side again and again. Even as recently as last year I was devastated again to rediscover my wound after I thought I'd "overcome" it. Recognizing that self-worth issues are one of my themes I now find strangely comforting, keeping me humble and deeply aware of my humanity.
I can appreciate a good paradox as much as anyone, so it makes me smile when I see how our wounds and challenges make us stronger.
Here's to loving our lives with our whole hearts and all of our beautifully flawed complex selves!
Now go on, give yourself a hug for not being boringly perfect.
Cheers and Love,

---
Confident Vision Living News
News

Get What You Want! Workshop ~ June 26 ~ California
There's still a few spots left open (as of this writing) in our upcoming dynamic workshop. Ready to get motivated and fired up to knock down those excuses, understand what's holding you back, and to start taking action to lose the weight and create your best life?
Imagine how sexy, fit, beautiful, and happy you would feel if you took action to make your dreams come true!
Details and registration info here: Tell Me More!

Sorry Charlie!
Well, sometimes you just mess up. Last month the link to see the newsletter on the website was wrong, sorry about that (realized there was no way to fix it after the fact).
Here's the link to last month's Stop Thinking and Start Doing newsletter so you have it handy.
Define Your Own Moments
Confident Living
This ain't your first rodeo.
You've been around the block, worked some stuff out, been there, done that. You know which way is up. Sometimes you feel like you've finally got this life thing down.
And then it smacks you in the face and reminds that, "Hey Missy, don't get TOO comfortable, you've still got a lot to learn."
Maybe you make a big mistake. Maybe you inadvertently hurt someone. Maybe you hurt or sabotaged yourself. Maybe you completely chickened out of something.
Those moments can take you off your high horse back down to earth or from standing on the ground to on your knees.
But only YOU can decide which how it's going to impact you and what it means.
Being kind to ourselves is essential.
But first, comes honesty. REAL honesty. The Look-in-the-Mirror-and-See-Your-Soul kind of honesty.
Before you react and before let the old negative mental "tapes" start playing, stop and objectively decide what just happened.
What could you have done differently? What did you handle better than in the past? What can you learn from it?
Decide what is required so you can pick yourself up, dust yourself off, and get back to being the person you want to be and to making choices that keep you moving forward with your dreams.
Maybe a big fat "Oh well, #*%* happens, let it go" is all that's required.
Or maybe you need to make amends with someone or even apologize (perhaps to yourself) before things are righted again.
Setbacks happen. Not getting derailed by them - mentally and emotionally - for too long is the key to your getting more and more powerful. More and more loving with yourself and others. And more and more the real you, the Wise Beautiful Kind and Free being and spirit that you are.
So next time something happens and we get tested, YOU get to choose what it means, what you learn from it, and how it's going to be a stepping stone on your journey instead of a boulder in your path.
Isn't life fun?
Without these little tests how would we ever know we're getting better and better?
For more thoughts on building your mental strength, see Get Mentally Strong.

Quote of the Month

Insight

There is something in every one of you that waits and listens for the sound of the genuine in yourself. It is the only true guide you will ever have. And if you cannot hear it, you will all of your life spend your days on the ends of strings that somebody else pulls. ~ Howard Thurman
For more motivation quotes see Even More Motivation Quotes.


Cheesy Kale Chips
Healthy Recipe

Craving something snacky and cheesy but you don't want to slip back into empty calorie fake foods? On top of that you don't digest soy, dairy, or gluten well?
I have a solution for you. Cheesy kale chips!
These fabulously cheesy-tasting kale chips are not only soy, dairy, and gluten free, but you're getting your greens AND they taste delicious!
They're easy to whip up and they travel well so they're perfect for picnics, parties, school snacks, and sporting event noshing.
Experiment with the flavors (spicier, cheesier) and texture (I like them super crunchy/dry) and enjoy kale like you never thought you would.
Are they ready yet? How about now? Now?


Enjoy a gorgeous week appreciating the many blessings in your life and focusing on who you are deep in your heart. Do what makes you feel ALIVE and live your dreams! With belief and action, anything you imagine is possible.

Make it happen! I'm cheering you on all the way.
---
Know somebody who'd enjoy reading this?
Feel free to forward to friends who may be interested.
Haven't subscribed yet?
Get a free subscription here (top right corner). Sign up and receive Get You Closer to Your Dreams FREE.
Contact me
I love hearing readers' comments, opinions, questions and ideas. Click here to open the contact form.
You truly are a beautiful light being and I love helping you shine even more brightly. Be the shining star you are!