Lose Body Fat and
Get Your Powerful in Your Life
There is no more direct way to boost your confidence than to lose body fat and get physically fit.
Feeling in control and at peace with your body is foundational to feeling control and peace in your life. Exercise is for every body! Free yourself from what weighs you down. Get rid of the excess baggage in your life and find strength inside you never knew you had.
Want to hear something that may shock you?
Your body actually likes exercise. Huh? "Not my body," you might say. But think again. Your body may not be used to exercise, but given half a chance, I promise you, your body will amaze you with a gorgeous responsiveness. We are DESIGNED to move. Learn to exercise regularly, lose body fat, and you will be rewarded with a firm sense of personal accomplishment, a tighter stronger leaner body, and a confident glow that lets you know you can do anything you put your mind to. Anything.
We'll help you: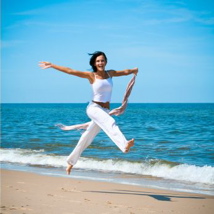 Discover what's tripped you up in the past
Find exercise you actually like
Stay motivated
Evaluate your progress
Remove obstacles to exercise (financial, time constraints, knowledge, access)
Address your exercise fears
Learn to love your body for the powerful machine it is
And more!
Get your mind out of the way and your body will follow.
Every excuse has a solution. Find out how to dissolve your excuses into reasons TO make fitness a part of your day you value so much that you keep with it.
What can exercise do for you?
More energy and stamina
More confidence
Sleep better
Feel physically stronger and capable
Look better in your clothes (due to fat loss, toning, better posture, etc.)
Give you a feeling of accomplishment – just like we feel every time we do what we say we're going to do
Plus it drains off exercise stress energy (not to mention excess fat)
And that's just the start...
It's also great for clearing your head and for feeling more grounded and centered. And feeling slim and toned is pretty darn empowering in and of itself. You are your own work of art! All it takes is learning how to lose body fat in ways that you can stick with and feel confident about.
We also show you how you can work out at home (for free!) in ways that keep you entertained and your body stimulated so you keep making progress with your fitness (and all of your) goals.

Learn about Your Trigger Foods

What Does Living a Healthy Lifestyle Really Mean?

Why Keep an Exercise Journal?

Top 10 Reasons to Exercise

Is Wine Sabotaing Your Weight Loss?

Give Your Metabolism a Kick!

Coping with an Injury

Lose Weight Walking Tips

Get a Lift with Sports Bras

Why Walking for Exercise?

Know Your Exercise Motivation

Ready to Get Started on Your Best Life?

Keep a Walking Log

Weight Loss Motivation Resources

Return from Lose Body Fat to Confident Vision Living
Want to Create Your Own Website and Live Your Passion?
You CAN. See what freedom SBI offers. I did!