What Are the Best Diets for YOU?
The best diets are those that fit your lifestyle and help you reach your fitness and health goals. "Diet" simply means the foods you choose to eat for your life. It's about long-term healthy foods that fit your lifestyle.
Ahhh food. We all love it and we all need it. But so often eating becomes less than pleasurable for us when we're trying to get healthy and lose body fat. Either we deprive ourselves and food becomes something to fear and distrust or we OVERindulge and use food to comfort us — sometimes both in the same day! But there are healthy ways to eat that satisfy our bodies AND don't cause us physical, emotional and mental pain.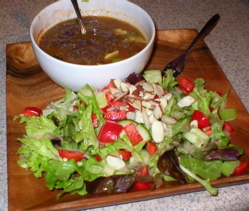 The best diets are those that:
Meet your nutritional needs
Are affordable
Fit your lifestyle (your schedule and skills)
Have recipes and guidelines you understand
Agree with your ethical beliefs
Avoid your food intolerances and allergies
Include foods you can enjoy for years — not just for a short while
But most importantly...
Taste great
Make you feel good — in body, mind, and spirit!
Improving your relationship with food is another factor that can free you to be your confident best. It's time for food to be a joy in your life every day. Empowering your body with the right fuel gives you boundless energy, nurtures you, and frees you to focus on making your dreams a part of your everyday life.
Every body is different. We arm you with information that will help you reach your goals so you can live your best life — the confident, healthy, fun life you deserve. It IS possible if you educate yourself so you can stay motivated to do the work. We'll be with you all the way!
Take advantage of the resource links below for excellent ideas about making eating fun AND healthy. You'll vastly increase your self-awareness about food in your life and will learn some great tips and ideas for making food a true pleasure — all while living a life that is moving toward your dreams.
(P.S. I love this book! Nourishing homemade drinks.)

.
Why Keep a Food Journal?

Is Wine Sabotaging Your Weight Loss?

Easy Healthy Recipes to Lose Excess Fat

Stock Up Your Pantry for Success

Stop Snacking Gone Wild!

What Foods Trigger You to Binge?

Do You Need Dietary Supplements?

Gin's Favorite Healthy Eating Recipe Books

Ready to Get Started on Your Best Life?

Return from Best Diets to Confident Vision Living
Want to Create Your Own Website and Live Your Passion?
You CAN. See what freedom SBI offers. I did!