Vegan Cheese
Vegan cheese takes only three ingredients.
In minutes you have a delicious spread that's excellent with onion bread. It would also be perfect for collard green wraps or as a dip with crackers or veggies.
To me it tastes like a parmesan cheese almost, a lovely nutty tangy crunchy dip that's lovely in a sandwich, too. I love that is keeps me satisfied for hours.
That's my favorite way to eat this - on onion bread with sundried tomatoes. Would be great with spinach as well.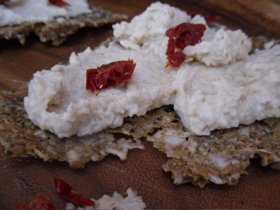 Vegan Cheese
1 cup raw cashews
1 1/2 TB garbanzo miso*
2 TB lemon juice
* You can use soy miso if you prefer it but I avoid soy so this is great for me.
Blend the cashews in a food processor until they are in rough chunks. Add the miso and the lemon juice. Add a little water or more lemon juice until you make it a consistency you like.
Use less lemon juice and miso if you're not a fan of the tangy flavor.
It will firm up a bit in the refridge, so make it a smidge softer than you want it when using it cold. Kept refrigerated, lasts at least 5 days.
This is a nut-based recipe, so like any calorie-dense food, use in moderation if you're watching your weight.
Remember to keep the miso in the refrigerator. You can find it at most grocery stores in a refrigerated section.
To make this recipe your own, add herbs and spices, add chunks of veggies, or whatever your creative genius mind comes up with.
Delectably Easy Raw Onion Bread

No-Bake Blueberry Cobbler/Pie

Kale Chip - Healthy Snack Option

Fast Green Smoothies

Quick Walnut Pate

Sweet Coconut Balls

Never Be Out of Milk Again

Curried Leeks

Fresh Homemade Granola Cereal

Return from Vegan Cheese to Confident Vision Living