Delicious Green Smoothie
Green smoothies are highly nutritious and can be a great way to get "the good stuff" into your diet. After all, food is energy. Choose foods that make you feel good, give you energy, are guilt-free, fit your lifestyle, and that get you closer to the REAL you – how you want to live.
Easy * Tasty * Filling * Healthy * Endless Varieties
Ingredients:
Greens (such as spinach, kale, chard, or dark lettuce)
Fruit (1-3 kinds that complement each other)
Water (about 1/2 cup, enough to help it blend)
Ice (few cubes, less if using frozen fruit)
Aim for about 60% fruit and 40% greens. Put soft items in first for easiest blending (non-frozen fruit on the bottom).
Mix in blender at high speed until mixed well. (Use a high-speed blender like a Blendtec or Vita-Mix as it breaks down the greens enough for a smooth consistency and allows better digestive absorption by breaking open the greens' cellulose walls.)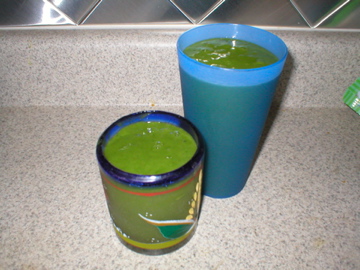 For example - spinach, banana, orange, pineapple (like a green pina colada).
Or rainbow chard, raspberries, banana, mango.
If needed, sweeten with a little agave, dates, honey, or stevia. Stores in the fridge for up to 24-hours (fresher is best as it gradually loses nutrients over time).
Think your kids won't drink a green smoothie? Add berries, such as raspberries, blackberries, or blueberries. It turns it dark reddish purple and they won't see or taste the greens. Yum! Add some fun straws and they'll really enjoy their sweet healthy meals.
Use your imagination! Experiment and change your fruits with the season. Keep it as simple as you can so you can experience more variety and don't get bored. Make sure to VARY your greens regularly so you don't get tired of it and get different nutrients. If you use any superfood powders, you can add them in, too.
Add almond milk to thicken or turn it into a milkshake. Nut milks add creaminess but some folks digest better when they do not mix nuts with fruit. See how you feel by tracking your food intake in your diary.
Some folks even say that eating greens cuts cravings for other not-so-healthy foods. Seems to be true for me, so give these beautiful green babies a try!
Check out Victoria Boutenko's book, Green for Life, for more information about green smoothies and her experiments.
Onion Bread That Rocks It

Craving a Pie or Cobbler?

Hearty Walnut Pate

Coconut Dessert Balls

Delicious Healthy Almond Milk is Easy to Make

Raw Granola Cereal

Creamy Green Milkshake

Dairy-Free Cheese Spread

Raw Food Pictures to Inspire You

Easy Healthy Recipes

Gin's Favorite Healthy Recipe Books

Spicy Curried Leeks

Snacking on Greens? Cheesy Kale Chips

Return from Green Smoothie to Confident Vision Living