Green Smoothie Milkshake
A green smoothie can be made into a raw vegan milkshake simply by adding a nut milk to make it richer, creamier, and heartier.
Can't do dairy, don't want to do dairy... but still want that creamy goodness? No problem! Nut "milks" contain no animal proteins - they're simply nuts and water blended and strained.
As with regular green smoothies, this drink is an easy and delicious way to get more of those greens and their powerful nutrients into your body.
Like many raw whole fresh foods, there's no need to measure. Use your instincts and experiment to make it just how you love it.
About 3/4 cup almond milk
1 ripe banana
1 tsp nutmeg
Big handful or two of greens (spinach or chard or dark lettuce)
Few drops of vanilla extract
Few ice cubes
If necessary, add a splash of a sweetener such as agave, honey, stevia, or 2 soaked dates (optional)
Any superfood powders you like, such as VitaMineral Green or Earth (optional).
Blend at high speed in your blender until mixed and enjoy immediately for maximum freshness and nutrition.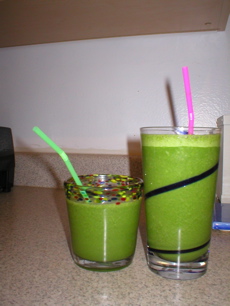 A beautiful and satisfying breakfast or anytime meal. (Some folks don't like combining nuts with fruit, so see what works for you.)
Make the milkshake THIN (add more milk or water) and treat yourself to a green sweet milk (as you would a chocolate milk).
Or make it THICK (add more ice or a second banana) and it's like a green eggnog, creamy and yummy, especially nice in winter.
You could even add CHOCOLATE powder (preferably raw cacao) and fresh mint and make it a chocolate mint milkshake!
Mmmmm. Who says you can't eat healthy and still feel indulgent?
Delicious Healthy Almond Milk is Easy to Make

Soy-Dairy-Gluten-Free Cheesy Kale Chips

Light and Filling Breakfast Granola

Drink Your Delicious Greens

Walnut Vegetarian Pate

No Dairy Cheese Spread

Simple No-Bake Berry Cobbler

Zesty Curried Leeks

More Easy Healthy Recipes

Yummy Coconut Dessert Balls

Gin's Favorite Healthy Recipe Books

Onion Bread With No Baking?

Return from Green Smoothie Milkshake to Confident Vision Living